Jumaadi's subject matter since the beginning of his career as an artist have always  included natural phenomena such as clouds, storm, rain, and fog. Sometimes one sees an outline of a leaf superimposed or the trunks of trees. Every now and then human figures are framed on the foreground, alone or as pairs of lovers. Fragments of text add another layer of meaning both as text (in Indonesian or in English) and as an abstract visual element, bringing to mind a similar quality in the highly spiritual works of the New Zealand painter Colin McMahon. Other subjects include water buffaloes, erupting volcanoes, bicycles and simple rectangular shapes with rounded
edges.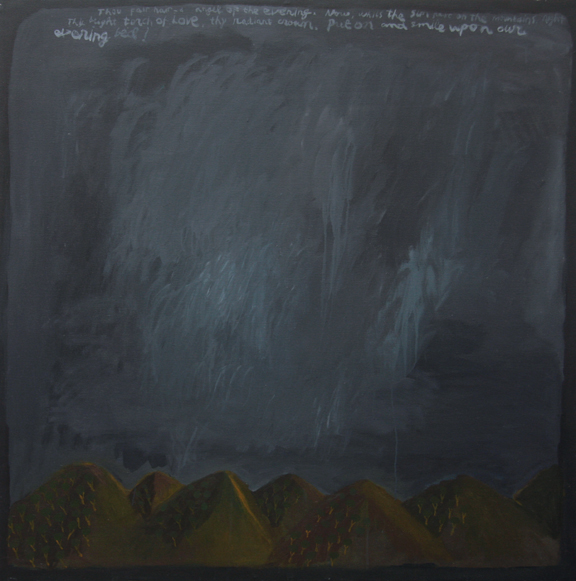 I wonder about these motifs in his work and is reminded that Jumaadi's interest in environmental issues preceded his career in the arts. Going as far back as 1994 before he moved to Australia, he worked as an activist for an NGO called Pusat Pendidikan Lingkungan Hidup Seloliman (Seloliman Environmental Education Centre). I also remember his journey back to his hometown in Sidoarjo in East Java in 2009, to coordinate art workshops for the displaced children of the Lapindo Mud Disaster.
I preface this post with these facts because I feel that though these paintings are not political, they are informed by a longstanding concern, a deep emotional investment and connection to the environment; a kind of pantheism even. In one of our conversations he mentions that 'Islamic teaching is to find god on the creations. That's fundamental of environmental awareness'.
These are not easy paintings. They are difficult aesthetically in that the palette consists of muted gouache or acrylic washes of blacks, greys, blues and browns with scumblings of white – which strangely makes them appear at times luminous but many times muddy. Formally he has two distinct arrangements. He either works on individual pieces on board or serially on small parchments of paper. He has described the latter as part of a daily practice – a form of meditation with material that brings him psychic relief, without which he finds it difficult to function during the day. The second arrangement is now familiar to us through the years – smaller paintings on paper organised intuitively on a grid which resembles a storyboard but also as frames within a frame with some parts of the imagery spilling across multiple frames. One can thus read the images sequentially or holistically in alternating fashion; or from a distance, simultaneously all at once. As is fitting in an ecologically aware practice, the works' material footprint is humble – one can easily imagine cradling one of the small paintings on one hand.  Of which he says, "I paint small because that's a personal thing, like a wallet, something special, like a gift. I'm not interested in overwhelming people. You can see the power of God through the sublime."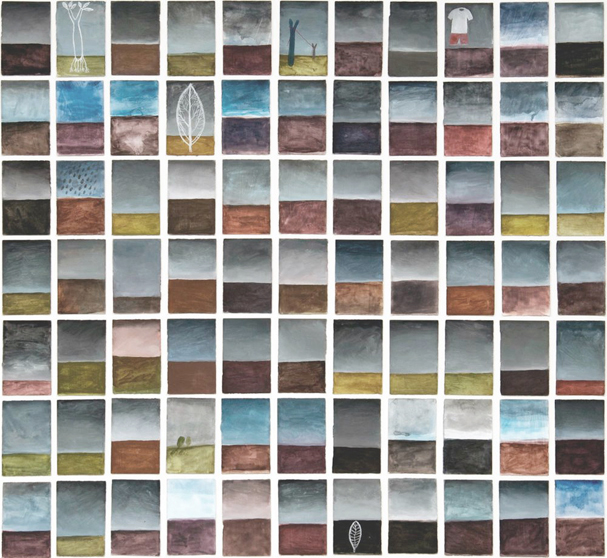 The horizon line is ever present in many of the individual small works which makes up the grided whole and also in the individual larger works on board. He says that this come from his direct contact with the Australian landscape through repeated visits to Alice Springs, Hill End and Broken Hill over the years. The impression one gets from the paintings however is not that of a painter that is awed by an expansive landscape or the grandeur of nature but of one who feels he belongs to it, and feels a part of it.
"Pause", Jumaadi's upcoming solo at Watters Gallery opens on February 8 at 6 pm and runs till February 28. In contrast to the concept of taking a breather indicated by the title, these series of new works was developed during a very busy schedule of back to back international residencies undertaken in Leiden (Holland), Northern China, Bali and Kuala Lumpur. An artist talk and series of performances are also slotted for March with artists Ruark Lewis and Jason Wing at DNA Projects in Chippendale.