2009
Meng-shu You's installation Coca-colonisation part of the White Heat exhibition at Manly Art Gallery & Museum, features blue and white stoneware replicas of soft drink bottles displayed en-masse as merchandise on an industrial grocery shelf. Painted on in a calligraphic style are bamboos and fishes  and are reminiscent of  the traditional blue and white porcelain wares which are mass produced as kitschy replicas , sold the world over. The installation seems to act as a marker for both American popular culture which has embedded itself in an intractable position of influence globally and recent shifts in economic centres with the rise  of China. Made in 2006, it is interesting to reflect on the installation in the midst of a global economic recession as issues of cultural imperialism have become even more complicated.
In contemporary arts the traditional delineation of centre and periphery (with the west as the centre and the rest of the world the periphery) is slowly being upended as a side-effect of globalisation. Some idealists go so far as to claim the absence of a centre for contemporary art (anywhere is a possible centre/the centre is where you are) and the emergence of a global vernacular where visual codes function cross-culturally. An over statement perhaps – given the insensitivity of the market to service needs other than its own.
You has studied in the west (she has previously completed her MFA at Michigan State University in the United States and has just completed her studio based Doctorate in Visual Arts at the University of Sydney) and seem to intentionally utilise a visual language that is legible to an international audience exposed to or educated in western art – referencing signs and symbols that critiques western popular culture. A rational approach given that until very recently, the onus was often on non-western artists, especially those living in the west (and even for many of those who did not) to grasp the sign system of western contemporary art culture – in order to interpret, re-interpret and participate in it.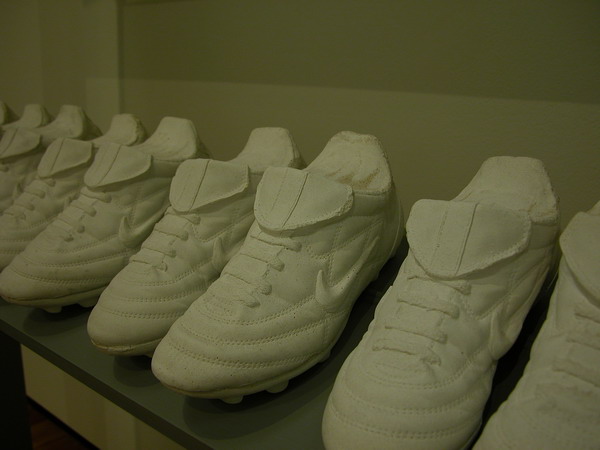 Not to disregard the pain of cultural transition or the stresses of living under the shadows of a foreign culture  – it is useful to observe such cultural clashes. Equally interesting is to understand not only what is directly articulated by the artist (via conversations or through personal statements) about their work but to also feel the conflicting strands of influence against the grain of their intentions.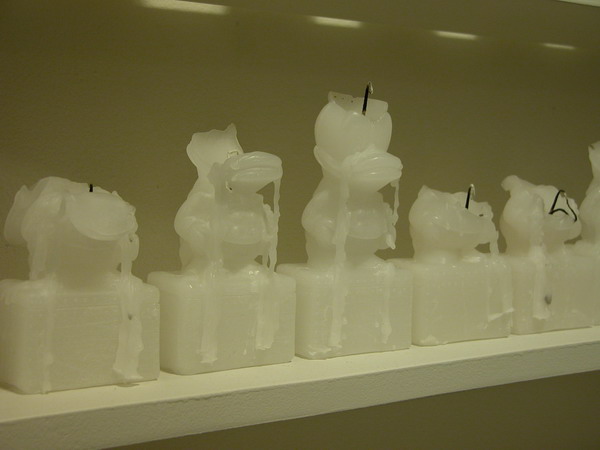 In her curatorial statement Bartholomew describes white heat as "the stage during a kiln firing that stretches the limits of reason and safety. Some clay materials distort, contort and are subject to a process of unforgiving melt-down. Others are transformed into exquisite and unexpected treasures, inspiring change, innovation and creativity. " If white heat is a metaphor for difficult life experiences or the curse of living in history's more "interesting times" – it is fortunate that many do survive and experience greater creativity in spite of or because of such experiences. Not only to come to terms with the imposed language and culture, but to utilise it intentionally in a self reflexive way as critique.
Meng-shu You is a Taiwanese artist currently residing in Sydney. Her works often comments on the negative effects of mass production and consumption. Her most recent solo shows include Melting Down at Immersion Therapy Art Space in Melbourne and Selling Out at Gallery 4a Sydney. Selected group exhibitions include: From Mao to Now at Armory Gallery Olympic Park Sydney; the 4th World Ceramic Biennale Korea; Design Globalization at the Museum of Communication Frankfurt; Kneading the Clay to Rebuild, Firing the Ware to Reborn at the National Taiwan Craft Museum in Taipei; the International Biennial Exhibition of Ceramic Art" at National History Museum Taiwan.
White Heat at Manly Art Gallery and Museum is part of the 2009 Ceramic Triennale Sydney. It was curated by Dr. Julie Bartholomew. Participating artists in the show included: Avi Amesbury, Penny Byrne, Lynda Draper, Kate Dunn, Bern Emmerichs, Fiona Fell, Honor Freeman, Madhulika Ghosh, Irene Grishin-Selzer, Christopher Headley, Andrea Hylands, Virginia Jones, Dr. Cathy Keys, Laura McEwan, Pru Morisson, Biljana Novakovich, Mel Robson, Avital Sheffer, Penny Smith, Liz Stops, David Tucker, Kenji Uranishi, Gerry Wedd, Rachel V. Williams and Meng-shu You.
The 2009 Ceramic Triennale Sydney had close to 40 local galleries showing contemporary works simultaneously. Participating galleries included: Rex Irwin Art, Ivan Dougherty Gallery, Australian Galleries at Mary Place Gallery, Hogarth Galleries, COFA Space, Global Gallery, Freeland Gallery, Barry Stern Galleries, National Art School Gallery, Robin Gibson Gallery, planet, Flinders Street Gallery, Ray Hughes Gallery, Evan Hughes Gallery, Sabbia Gallery, Object Gallery, Mori Gallery, Horus and Deloris Contemporary Art Space, Birrung Gallery World Vision Australia, Gallery 4a, Art Gallery of NSW, Brenda May Gallery, Stella Downer Fine Art, Legge Gallery, Chrissie Cotter Gallery, MOP Projects, Tin Sheds Gallery, Kerrie Lowe Gallery, Gallery Adagio, Inner City Clayworkers Gallery, Gallery Red, Sydney College of the Arts Gallery, Delmar Gallery, Manly Art Gallery & Museum, Mosman Gallery, Helen Stephens Gallery & All Handmade Gallery, Nepean TAFE Gallery.