Max Lieberman – Anubhava @ Flinders Street Gallery. March 6 – 24, 2012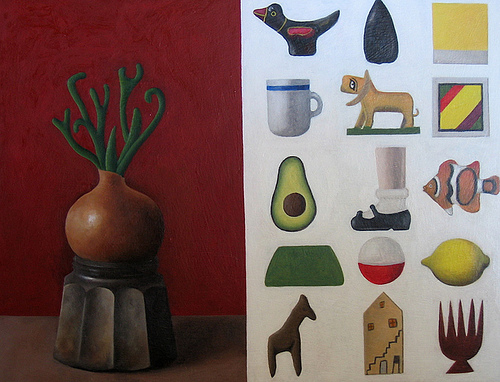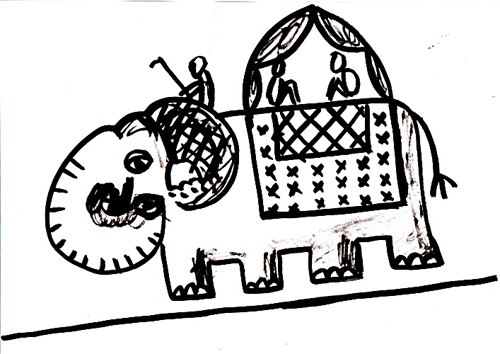 We live in times of unlimited choice, heady technological innovation and increasingly regular paradigm shifts – not to mention visual vertigo from the dizzying data dump that is the Internet. But for every artist who breathes in the zeitgeist there are also others who carve out curious niches of their own, out of sync with his or her peers. I have a feeling that if I called him old fashioned and unfashionable, Max Lieberman would not be totally unhappy. He cites Henri Rousseau and the obscure Georgian itinerant artist Nikos Pirasmani as influences – two classic naïve painters; and says that he often finds more merit in the work of children than the works of professional artists. He mentions friends Newell Harry and Jumaadi as other influences.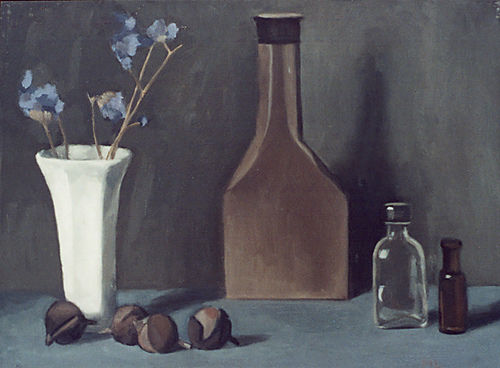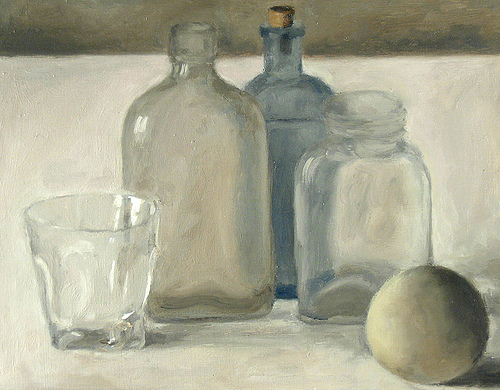 A great deal of his early work is predominantly in the still-life genre and inspired by Giorgio Morandi. The most recent ones are less so, with forays into landscape and illustration-like representation. In these early works you can feel the influence of Morandi in the arrangement of a few objects in shallow space, in the choice of subjects (bottles, vases, jugs, vessels of various kinds) and in the occasional monochromatic palette.
Despite his passion for the works of naïve artists, some aspects of folk, outsider art and Indian sign painting (he travels and works from India regularly and also collects Indian Tribal Art) – these are skilfully painted works by a trained practitioner. The application of paint and brush-strokes are confident, the colour schemes are complementary and the compositions are considered and thoughtful. What he seems to retain though from the folk/ outsider art/ sign painting milieu is an unassuming straightforwardness – a kind of homely earnestness even.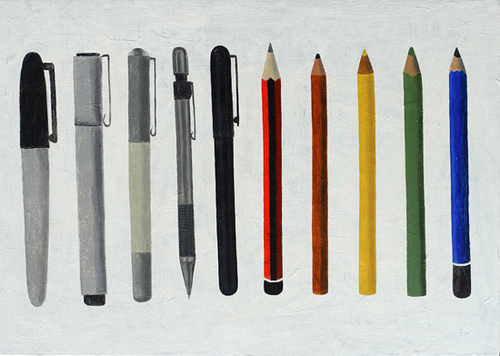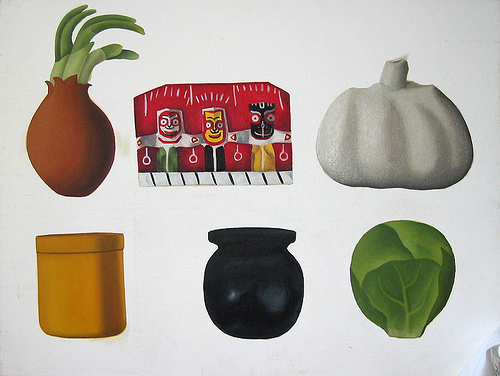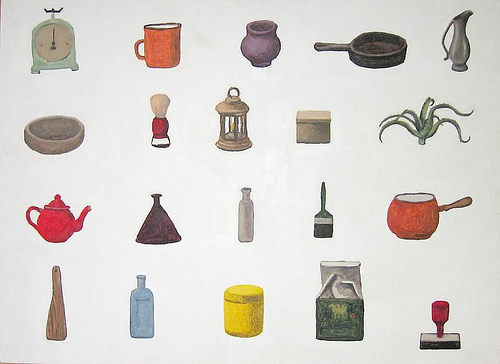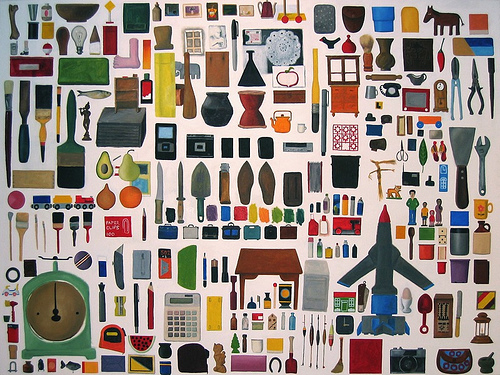 His drawings, of which there are many, also balance confidence with lightness – bringing to mind the thick squiggly lines and mark-making of Philip Guston or the automatic drawing in a Picasso etching. Many are quite whimsical, fun and funny in the way comic strips often are. The "objects" series of paintings in oil, named after the number of objects and painted usually against a white background, have a more flat graphic quality typical of sign painting. There seems to be a slight obsessive compulsive bent to these series of work- a kind of taxonomy of domestic life and tools of trade of the working artist.  Lieberman has said that he has chosen the objects to represent archetypes, symbols or poetics of form and matter – solid/ empty/ red/ hard/ soft/ wooden/ living/ plastic/ functional/ aesthetic, which resonate with him for their personal meaning.
I sometimes wonder about painters and why they still insist on painting in times such as ours. Every innovation that seems possible within the tradition seems to have already been plundered, plus our boredom thresholds for things that are not interactive are becoming even shorter. But maybe here lies the reason why painting continues to survive. Digital media and the Internet have the weird ability to demystify experience oftentimes, in the tyranny of the ubiquitous. Painting on the other hand is like pointing at something, deeming it important because it was important enough to paint. It acts like torchlight amidst the visual cacophony saying, "Look, here, see!"
Anubhava, Max Lieberman's solo show of works mostly painted in India opens on the 6th of March at Flinders Street Gallery and runs through until the 24th of March. Anubhava is an Ancient Indian Sanskrit word that means 'direct knowledge though experience'; it also refers to 'intuition, feeling and emotion'.